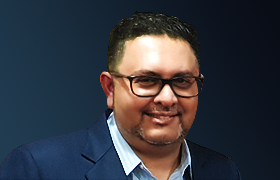 Lakhvinder Singh Gill
Chief Executive Officer
Qualification :

Degree in BA with Marketing Major from University of Hertfordshire, UK
Experience :
Chief Executive Officer for Asiankom Communication (M) Sdn Bhd. Honours Degree in Business Administration and Major in Marketing (University of Hertsfordshire, UK) with Advance Diploma in Business Administration (ABE, UK). Experienced in sales, marketing, administration, training for the Contact Center, Networking, Wireless, Bespoke Software Applications, Consultation for Organisation Change, Project Management and Solution Design.
Have previously worked in Siemens Malaysia, British Petroleum, Calltime Solutions (Oracle Distributor) and other organisations in Managerial and Sales Roles. Have extensively traveled South East Asia managing the partners (Channel Sales).
Experienced in Avaya Contact Centers, Siemens Enterprise Communication, Oracle's Contact Center Anywhere, Oracle CRM/DB, Witness Systems, Enterprise Resource Management Applications and Processes (ERP), HP Networking, Extreme Networking, Cisco Networking, Ruskus Wireless, Strix Wireless, HP Wireless Solutions, Servers (HP, IBM, Dell) and many more.